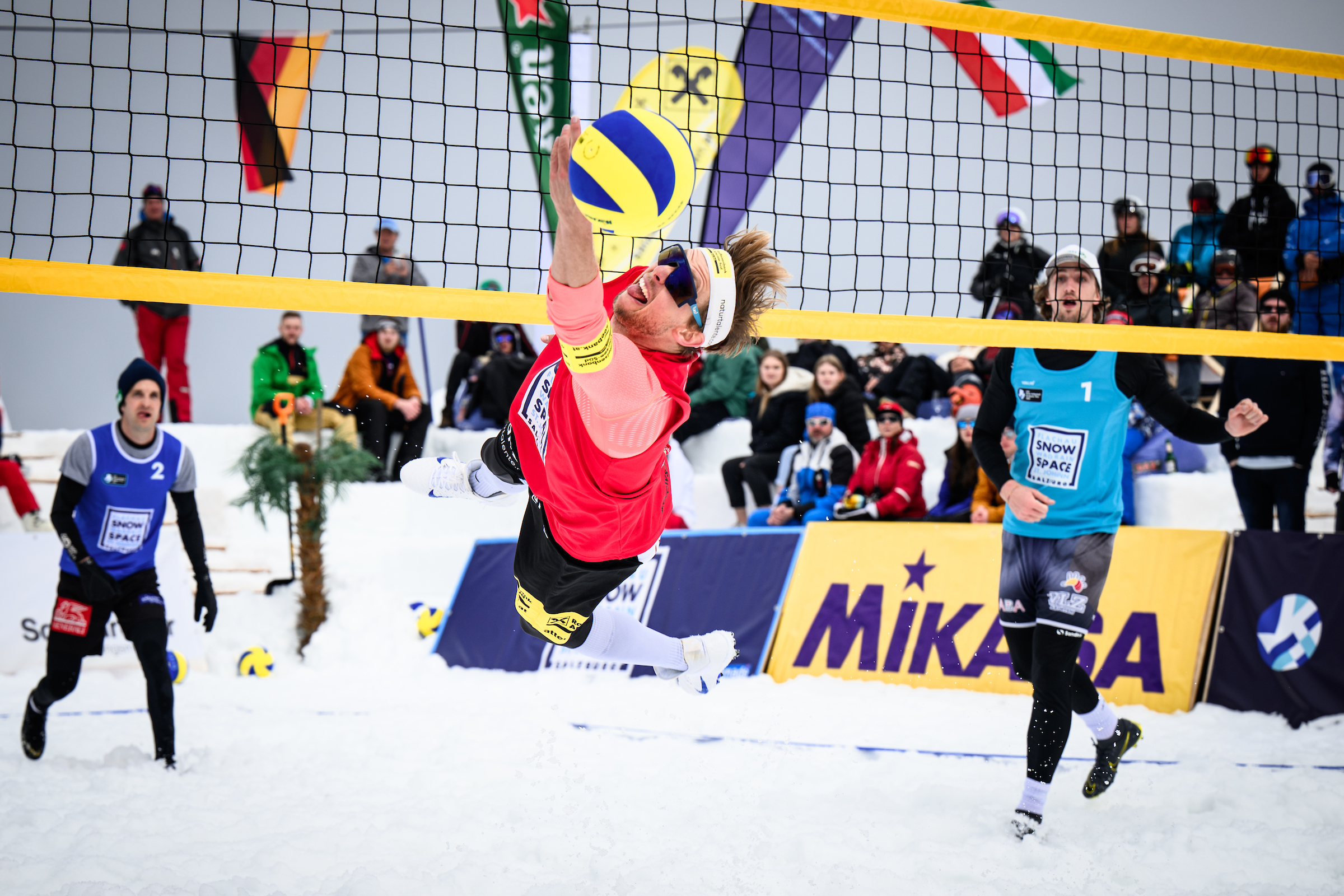 30 Mrz

Türkiye And Austria Claim Season's European Tour Trophies

41 teams from 15 European countries and Uruguay took part in Wagrain

At the biggest snow volleyball event of the season, the only CEV European Tour 2023's stop, as many as 26 men's and 15 women's teams from 16 different countries took to the breath-taking Alpine courts, situated at 1,850 metres above sea level in picturesque Wagrain, Austria, the birthplace of professional snow volleyball.

In addition to squads from Austria, Belgium, Czechia, France, Germany, Hungary, Italy, Lithuania, Moldova, Poland, Romania, Slovenia, Switzerland, Türkiye and Ukraine, a wild-card men's team all the way from Uruguay in South America arrived in Austria to compete in the tournament.

The women of Türkiye and the men of Austria triumphed as winners on Sunday to claim this year's European Queens and Kings of the Snow crowns.
Women's final between Türkiye and Romania (Photo credits: Conny Kurth / cev.eu)
The women's final in Wagrain turned out to be a remake of the previous week's historic BVA Balkan Championship final in Bulgaria. Once again, the battle between Türkiye and Romania was pushed to a deciding tie-breaker, and once again Türkiye emerged victorious with a 2-1 (15-11, 6-15, 15-6) win.
Türkiye lost to Austria in their opening pool match in Wagrain, but then went on a winning streak with victories over Poland, Czechia, Poland again and Romania to top the podium.
It was the country's sixth gold and overall 14th medal in the history of the women's European Tour. Turkish snow volleyball stars Simge Yalcin and Merve Celebi retained the Queen of the Snow titles, granted to the individual seasonal winners of the women's European Tour, for a third year in a row. This time they shared them with their current teammates Esra Cetin and Seray Gurle.
"We're really happy to have won the title," exclaimed Simge Yalcin after winning the gold. "Only in the second set of the final did we lose control a bit. It was a great event and the weather was perfect today."
Wagrain winners and 2023 Queens of the Snow Turkiye (Photo credits: Conny Kurth / cev.eu)
The silver Briana Fekete, Ioana Miu, Ioana Hobodi and Roxana Bacsis earned for Romania was their country's first-ever three-a-side podium in either gender, after the two gold medals a Romanian women's pair won in two-a-side snow volleyball back in 2017. Interestingly, despite losing twice in the pool phase, Romania advanced to the quarterfinals, where they shut out Czechia, before sweeping Lithuania in the semifinals to progress to the final.
Lithuania (Diana Kancerevyciene, Lilija Firinovic and Vlada Oganauskiene) took the bronze after a 2-1 (9-15, 15-9, 15-8) comeback against Poland in the third place match. It was the Baltic nation's ninth European Tour women's podium.
An all-Austrian men's final delighted the home crowd in Wagrain. The team of Austria 2 (Alexander Huber, Felix Friedl, Moritz Nedetzky and Timo Hammarberg) produced a 2-0 (15-12, 15-11) shutout of Austria 1 (Florian Schnetzer, Mathias Seiser and Moritz Kindl) to claim the trophy, as well as the individual King of the Snow crowns.
Champion-to-be Alexander Huber happy in the snow (Photo credits: Conny Kurth / cev.eu)
"A mega event, simply super cool! Thanks to everyone who created this! It was all there this weekend: we had bad weather, we had good weather, meaning sunshine… We look forward to being able to come back," said Felix Friedl.
Austria 2 went through the tournament undefeated, with consecutive wins over Poland, Switzerland, Ukraine, Czechia and Austria 1. Austria 1 also reached the final unbeaten after victories over Ukraine, Türkiye, France and Italy. The two fresh pieces of hardware enriched the nation's collection from the men's European Tour to two golds, three silvers and two bronzes.
Czechia picked up their sixth overall medal and first-ever bronze after Jan Mrkous, Frantisek Pihera and Tadeas Trousil, who impressed the audience with some spectacular dance moves on the court, hammered out a 2-0 (15-9, 15-12) shutout of Italy 3 in the third place match.
"In front of fans like that, you just have to create a mood on the court. Then a lot of energy comes back from the stands. We love this game! It was just amazing!" Mrkous said.
Dancing in the snow – Czech men celebrate their bronze (Photo credits: Conny Kurth / cev.eu)
Austria 2 star Flo Schnetzer was once again involved in passing his knowledge to the next generation as the traditional Kids Day was organised on the day before the tournament, sparking snow volleyball fever among 140 enthusiastic youngsters.
There was more than just top-level snow volleyball action on finals day in Wagrain. The show included a spectacular parachute jump and helicopters over the courts. There was also a celebrity game with the participation of Austrian beach volleyball legend Clemens Doppler.
Centre court in Wagrain (Photo credits: Conny Kurth / cev.eu)
source: https://www.fivb.com/en/about/news/t%C3%BCrkiye-and-austria-claim-season%E2%80%99s-european-tour?id=100763